Spring is the perfect time to breathe new life into your outdoor spaces, and there's no better way to do it than with professional handyman services. Dream Floor Landscaping is your go-to partner for all your spring landscaping needs. From garden maintenance to patio repairs, our skilled team is here to enhance the beauty of your outdoor haven. Read on to discover how our handyman services can elevate your spring experience.
Why Choose Dream Floor Landscaping?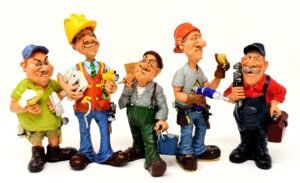 Expertise in Spring Landscaping: Spring demands special attention, and our expert handymen are well-versed in the unique requirements of the season. Whether it's pruning overgrown branches, revitalizing flower beds, or repairing your outdoor structures, we have the knowledge and skills to make your garden thrive.
Comprehensive Handyman Services: Dream Floor Landscaping offers a wide range of handyman services tailored to meet your specific needs. Our services include but are not limited to:

Lawn maintenance and mowing
Irrigation system installation and repair
Patio and deck restoration
Fence repair and installation
Tree and shrub pruning
Outdoor lighting installation

Quality Workmanship: We take pride in delivering top-notch workmanship. Our team of experienced handymen pays meticulous attention to detail, ensuring that every project is completed to the highest standards. Your satisfaction is our priority, and we strive to exceed your expectations with every job.
Timely and Efficient Service: We understand the importance of timely service, especially during the vibrant and fleeting days of spring. Our team works efficiently to complete projects within the agreed-upon timelines, allowing you to make the most of your outdoor space during this beautiful season.
Customer-Centric Approach: At Dream Floor Landscaping, we prioritize our customers. Your vision for your garden is our guiding principle, and we work closely with you to bring it to life. Our friendly and professional team is always ready to address your concerns and provide expert advice on maintaining your outdoor space.
Ready to transform your garden into a spring paradise? Contact Dream Floor Landscaping today at +971553119463 to schedule your handyman services. Let us turn your outdoor dreams into reality!
Spring Handyman Checklist:
Lawn Maintenance: Ensure your lawn is ready for spring by scheduling regular mowing, fertilization, and weed control services.
Garden Bed Revitalization: Prune overgrown plants, add fresh mulch, and introduce new flowers to give your garden beds a vibrant and refreshed look.
Patio and Deck Restoration: Repair any damage caused by winter weather, such as cracked tiles, loose boards, or chipped paint. Consider a thorough cleaning to remove dirt and debris.
Fence Repair and Installation: Inspect your fence for any damage, and schedule repairs promptly. If you're considering a new fence, spring is an ideal time for installation.
Tree and Shrub Pruning: Trim overgrown branches to promote healthy growth and shape your trees and shrubs. This not only enhances the aesthetics but also ensures the well-being of your plants.
Conclusion
As spring breathes life back into nature, let Dream Floor Landscaping breathe new life into your outdoor space. Our expert handyman services are tailored to meet the unique demands of the season, ensuring your garden is a blooming masterpiece. Contact us at +971553119463 to schedule your spring landscaping services and embark on a journey to transform your outdoor haven.