In the vibrant city of Dubai, where luxury meets innovation, creating an outdoor oasis is more than a statement – it's a lifestyle. Dream Floor Landscaping understands the essence of transforming your outdoor space into a haven of relaxation and enjoyment. As a leading landscaping company in Dubai, our exceptional swimming pool services redefine opulence and leisure. Dive into the article to discover how Dream Floor Landscaping can turn your backyard into a stunning aquatic retreat. For inquiries, dial +971553119463 now!
The Importance of a Stunning Swimming Pool:
In a city known for its scorching temperatures, a swimming pool is not just a luxury; it's a necessity. Beyond offering a respite from the heat, a well-designed pool becomes a focal point of your outdoor space. It complements the architecture, enhances the aesthetics, and adds significant value to your property. Dream Floor Landscaping specializes in crafting swimming pools that seamlessly blend with the Dubai lifestyle, offering a perfect balance of sophistication and functionality.
Customized Designs for Every Space:
At Dream Floor Landscaping, we understand that each outdoor space is unique. Our expert designers work closely with clients to create customized swimming pool designs tailored to their preferences, space constraints, and architectural style. Whether you envision a sleek infinity pool overlooking the Dubai skyline or a family-friendly lagoon-style oasis, we have the expertise to bring your dreams to life. Your imagination is our blueprint.
Innovative Features and Technologies:
Our commitment to excellence extends beyond aesthetics. Dream Floor Landscaping integrates the latest technologies and innovative features into our swimming pool designs. From energy-efficient filtration systems to smart pool controls, we prioritize sustainability and convenience. Imagine controlling your pool's temperature and lighting with a tap on your smartphone – with Dream Floor Landscaping, it's not just a fantasy.
Quality Materials for Enduring Elegance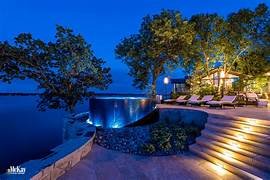 We believe in building not just beautiful, but enduring swimming pools. Our team selects high-quality materials that withstand Dubai's climate while maintaining their aesthetic appeal. From premium tiles to durable pool finishes, every component is chosen with longevity and elegance in mind. Dream Floor Landscaping ensures that your swimming pool is not just a seasonal delight but a lasting investment in your property's value.
Expert Installation and Timely Completion:
Dream Floor Landscaping takes pride in delivering projects with precision and efficiency. Our experienced installation team ensures that your swimming pool is not just a vision on paper but a reality within the stipulated timeframe. We understand the importance of timely completion, especially when it comes to enjoying your outdoor space during Dubai's favorable seasons.
Maintenance Services for Prolonged Enjoyment:
Owning a swimming pool should be a source of joy, not stress. Dream Floor Landscaping offers comprehensive pool maintenance services to keep your oasis in pristine condition. From regular cleaning and water balance checks to equipment inspections, our team ensures that your swimming pool remains a haven of relaxation for years to come.
Conclusion:
In the heart of Dubai's dynamic landscape, Dream Floor Landscaping stands as the epitome of excellence in swimming pool design and construction. Elevate your outdoor living experience with our customized designs, innovative features, and commitment to quality. For inquiries and to schedule a consultation, dial +971553119463 now. Let Dream Floor Landscaping transform your backyard into a luxurious retreat that reflects the grandeur of Dubai's lifestyle.